The adventure of operating an aircraft for a living excites the imagination in all of us. No matter what aircraft or career your final goal is, the starting point for all future pilots is the same: Start Flying Airplanes!  No previous experience required. Just give us a call and we will help you every step of the way.
Most pilots, particularly those working for commercial airlines, receive a healthy set of benefits including health, life, vision and dental insurance, as well as a retirement plan.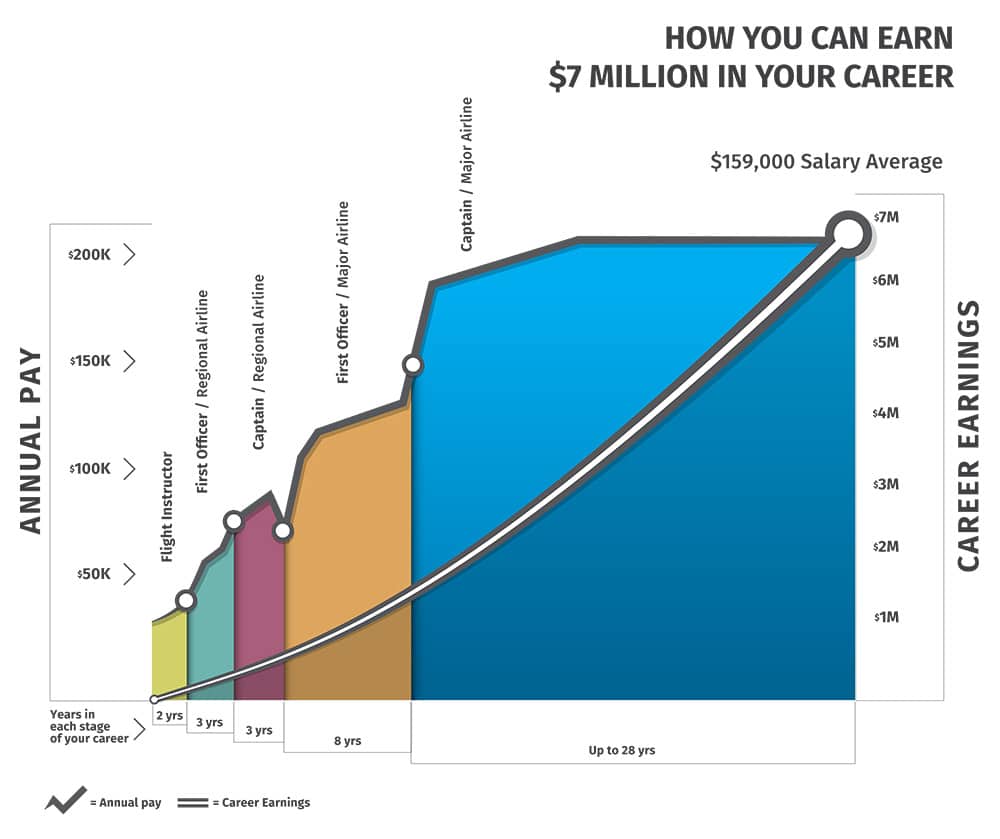 Pay Scale

Being an airline pilot can lead to a lucrative paycheck.

Benefits

Health, Life, Vision, and Dental as well as retirement benefits.

Travel Opportunities

Pilots, by the very nature of their occupation, have the opportunity to travel the world.

A Unique Line of Work

Many pilots go into the profession for the sense of power and freedom it provides them.
2411
Professional Pilots Graduated
Hearing from you makes our day!  Call and talk with a flight training expert who can answer all your questions.
Upper Limit Aviation offers Part 141 flight training for your Private Pilot Certificate, Commercial Pilot Certificate, Certified Flight Instructor (CFI) Certificate, and Airline Transport Pilot (ATP) Certificate.
Yes! Upper Limit Aviation offers flight training for the different ratings and endorsements you'll need for your professional aviation career, including your instrument rating (IFR), multi-engine rating and complex airplane endorsements.
Upper Limit Aviation offers both fixed-wing flight training and rotor-wing flight training, with a staff of highly experienced flight instructors, and well-outfitted and meticulously maintained aircraft.
Fixed Wing flight training is available at both of our locations, and rotor-wing flight training is available at our Temecula location.
The answer to that question depends on your goals. If you are interested in gaining a Private Pilot Certificate for non-commercial purposes then the minimum requirements are 40 hours, you must pass a written exam and a flight test.
If you can dedicate yourself, the requisite flight hours may take only a few months. Some of our students need to spread their training out because of busy schedules or financial restraints and the process takes longer to complete. ULA can be as flexible or as aggressive as you wish to be.
If you are interested in pursuing a career in aviation, then the program we recommend is about 18-20 months long.
A Private Pilot license in Fixed-Wing will cost you 10-12K, and Rotor-Wing will cost 16-18K. Upper Limit Aviation is an affordable flight school with connections to aviation funding sources that can help you finance your pilot certificates. We are dedicated to helping as many folks as possible who are committed to earning a commercial pilot certificate. Our financial lending associations may be able to provide you the necessary funding to help you meet your career goals.
The short answer is yes.
The longer answer is: there are several types of flight training financial aid that ULA can show you to help you afford your schooling and flight training. To get more information on all of your different options, click here to visit our financing page, or give us a call at (801) 596-7722, and a ULA team member will help walk you through each option.

"The accomplishment of knowing you have what it takes to be a rated pilot, nothing beats that. It's hard work, everyone thinks it's just flying but there is a lot of studying to it but if you want to do it and you're committed it is a great opportunity and Upper Limit is the way to go."
"I looked at twelve or more flight schools before I choose ULA. I really wanted to make sure I picked a great flight school. One that would take care of my needs – having an impeccable job placement rate to set me up for success. So, I chose Upper Limit Aviation and I haven't looked back."
"For student pilots it's non-stop studying, and our students group up to study together, and have fun doing it… It's a family atmosphere at ULA."
"I really enjoyed all of the instructors I worked with at ULA. In addition, ULA was extremely helpful when I was looking to move to Salt Lake City when I first got out of the Marine Corps."
Upper Limit is a great school that takes care of their students as well as the community they live in. They are always going the extra mile on their own dime to help the community. They provide excellent training in some difficult environments. They try hard to provide the best training to help give the students the most opportunities in the industry.
I'm a current student at upper limit aviation, I'm thoroughly enjoying my experience getting my pilot's license with this company, the staff are all very professional, thorough and consistently on point. The aircraft maintenance record is always in check and I feel very safe using they're plane and flying with my instructor Alex. I highly recommend anyone who's looking at getting their aviation license to do it with these guys and gals in my opinion they are superior.